---
🌊 Unleash Your Adventure with the Garmin G1 Dive Computer! 🌊
Introducing the Garmin G1 Dive Computer, the all-in-one answer to your quest for the ultimate sports and diving companion. This multi-faceted device doesn't just join you on your dives, it also seamlessly transitions into your runs, swims, bike rides and hikes. Dive into its powerful features and let this innovative gadget redefine your adventure!
🔹️ Indulge in High-End Features and Experience Unparalleled Benefits:
Full Multi-Sports Watch and Dive Computer: An all-rounder that supports single gas, Nitrox, Multi-Gas, TriMix, CCR, and even includes a silent vibrate alarm and in-dive stopwatch for Apnea / Free diving. Feel the thrill of ultimate flexibility! 🌐

Seamless Garmin Dive App Integration: Forget fiddly settings on the computer, the Garmin Dive App lets you change settings, modes, gases, and alarm settings from your mobile device. Enjoy unparalleled ease and convenience! 📱

Multiple Dive Modes and GPS Enabled: Whether you're a technical diver or a free diver, the Garmin G1 has you covered. Plus, the GPS helps mark surface entry and exit points for seamless tracking. Venture with confidence! 📍

Store Up To 200 Dives: Relive your underwater adventures! Upload, share, and review your dive history with the Garmin Dive app. 🔄

Track Your Activities: Measure your performance, track your stats above water, and explore over 30 built-in sports apps and advanced training features. A true game changer for any fitness enthusiast! 💪

Long Battery Life: With up to 25 hours in dive mode, 21 days in smartwatch mode, and 26 hours in GPS mode, your adventure doesn't stop. Dive deeper, explore longer! ⏰
🔹️ The Garmin G1 Dive Computer is Built to Last:
Water-rated to 100 Metres and MIL-STD-810 Rated: This rugged companion is designed to endure, ready for all your land or sea adventures. Dive without worries! 🚀

High-Contrast Display: Purpose-built design with a display that's meant to wow you. Dive in style! 👓

Customisable Dive Modes: Add additional screens for each dive mode that features the fields you want to see. Make your gadget work for you! ⚙️

InReach Compatibility and Dive Compass: Navigate underwater effortlessly with the 3-axis compass and stay connected with inReach satellite communicators. Adventure smartly! 🧭

Fitness Age, Recovery Time, Training Status, and All-day Respiration: Stay in tune with your body's needs. Assess your training productively and manage your rest and activity times. Listen to your body's rhythm! 🌈
💦 Are you ready to redefine your diving experience? Dive into adventure with the Garmin G1 Dive Computer!
Deep feature set.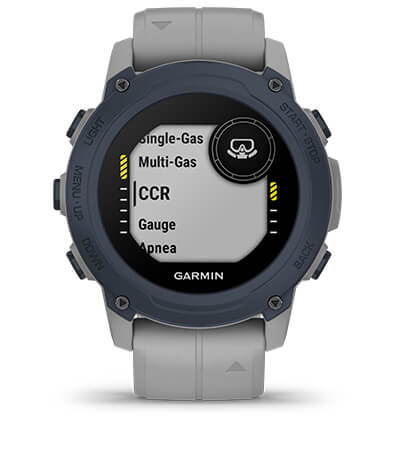 DIVE MODES
Get multiple dive modes for single and multiple gas dives (including nitrox and trimix), gauge, apnea, apnea hunt and closed-circuit rebreather.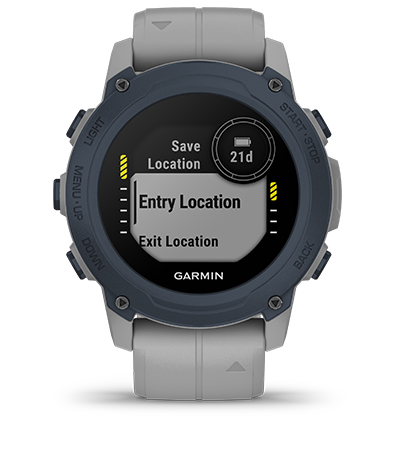 SURFACE MULTI-GNSS
Track your entry and exit2 points with advanced satellite connectivity.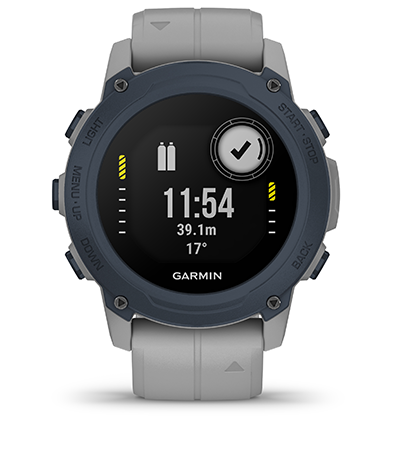 DIVE LOG
Store and review data for up to 200 dives — and share via the Garmin Dive app.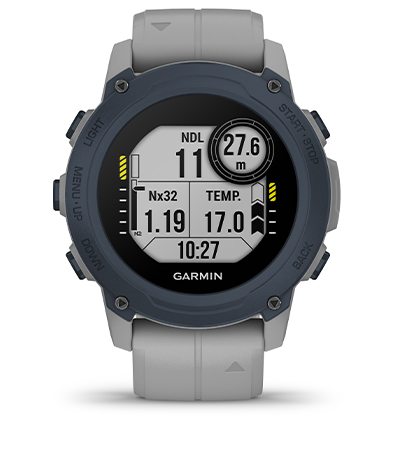 CUSTOMISABLE DIVE MODES
Add additional screens for each dive mode that features the fields you want to see.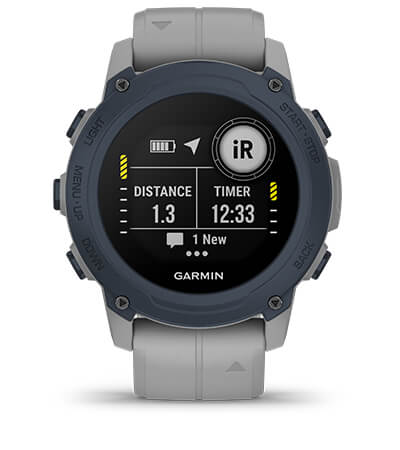 COMPATIBLE WITH INREACH®
Pair with inReach satellite communicators2 and the inReach dive case (each sold separately).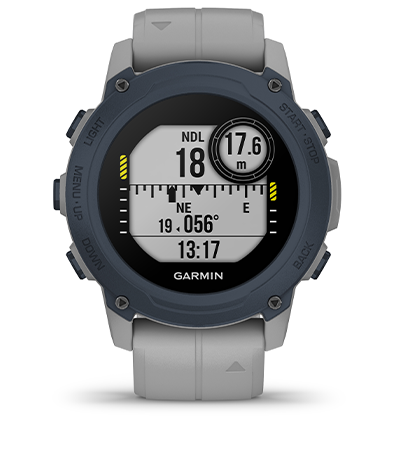 DIVE COMPASS
Easily navigate below the waterline with the built-in 3-axis compass.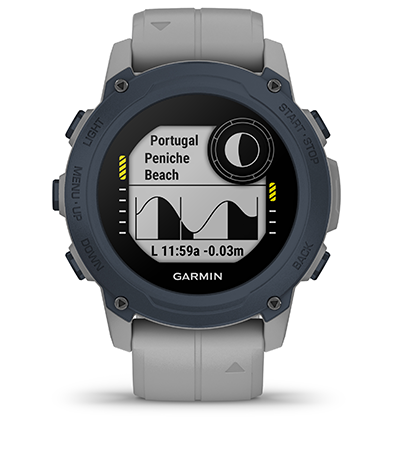 TIDE DATA
Stay up to date on ocean conditions so you can catch the perfect wave. Just pair the watch with your compatible smartphone.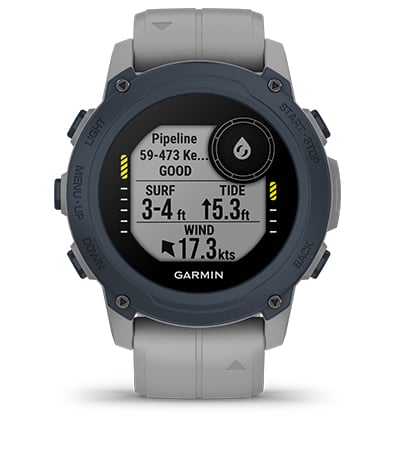 SURFLINE®
See conditions — such as tide, wave height, wind and surf rating — for each of the five nearest surf spots, when paired with the Garmin Connect™ app on your compatible smartphone.
Push performance to a whole new level.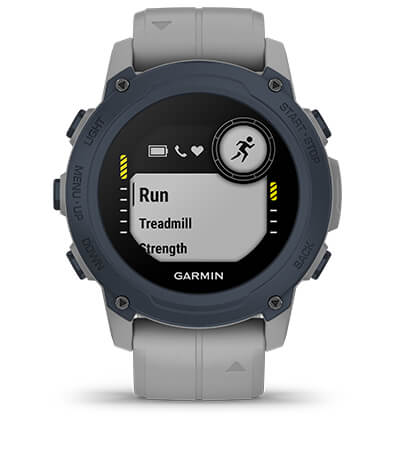 SPORTS APPS
Use preloaded activity profiles for trail running, swimming, running, biking, hiking, rowing, skiing, golfing and more.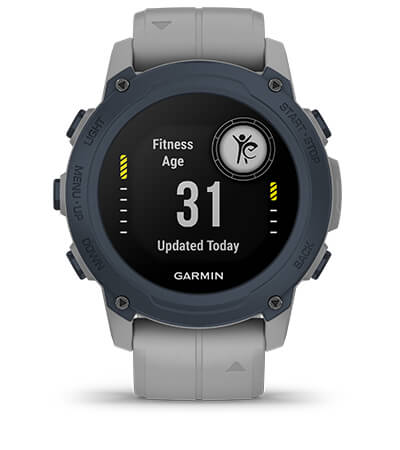 FITNESS AGE
This feature uses chronological age, your weekly vigorous activity and resting heart rate to estimate if your body is younger or older than you are. And you can get tips to lower your fitness age.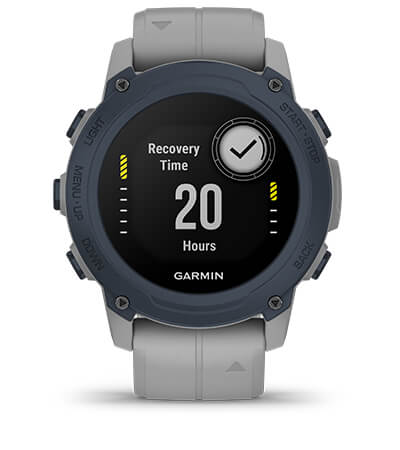 RECOVERY TIME
After each workout, recovery time lets you know when you'll be ready for another hard workout. It even accounts for training intensity and factors such as stress, daily activity and sleep.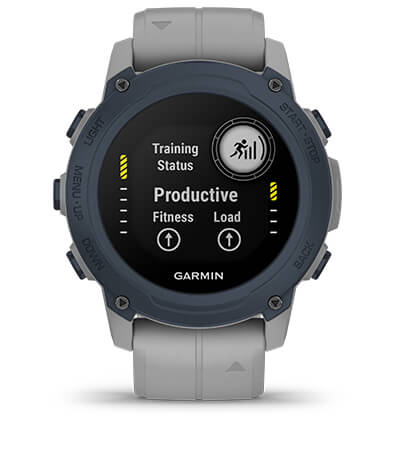 TRAINING STATUS
This metric evaluates your recent exercise history and performance indicators to let you know if you're training productively, peaking or overreaching.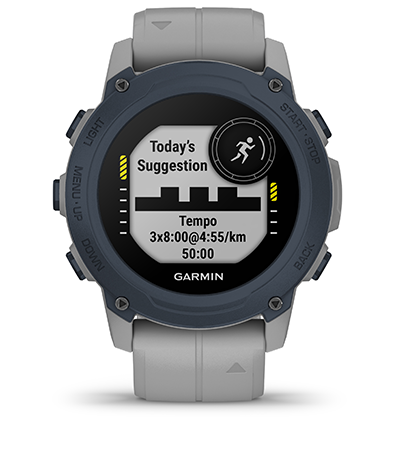 DAILY SUGGESTED WORKOUTS
For training guidance that takes you and your fitness level into account, get daily run suggestions based on your current training load and status.
ALL-DAY RESPIRATION
Track how you're breathing throughout the day, during sleep, and during breathwork.
Tune in to your body and mind.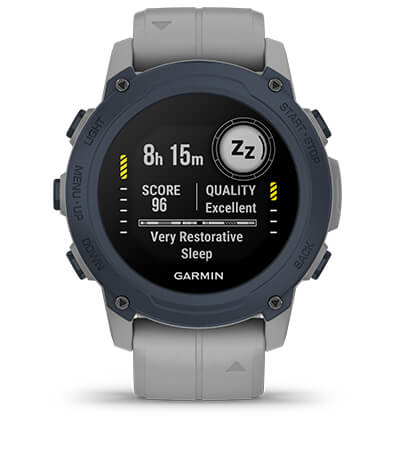 SLEEP SCORE AND ADVANCED SLEEP MONITORING
Get a full breakdown of your light, deep and REM sleep stages. View it all on a dedicated widget that includes your sleep score and insights.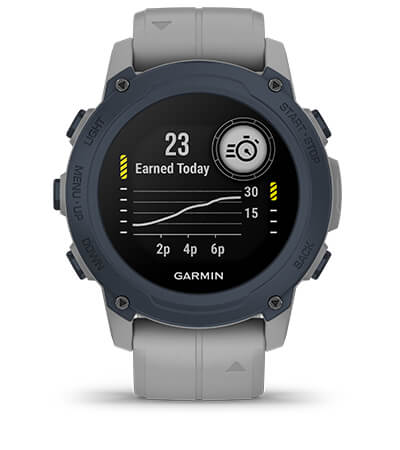 INTENSITY MINUTES
Track how many minutes of vigorous activity you're getting, when you earn them and during which activity. You can even view them as a data field during timed activities.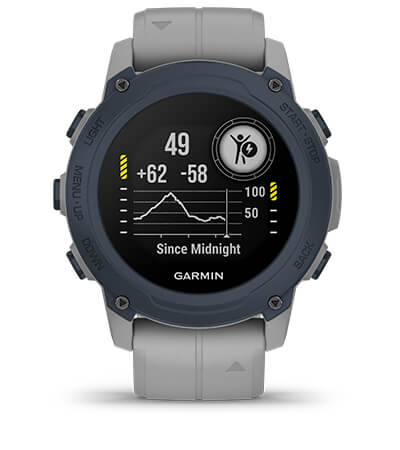 BODY BATTERY™ ENERGY MONITORING
Track your body's energy levels so you can find the best times for activity and rest.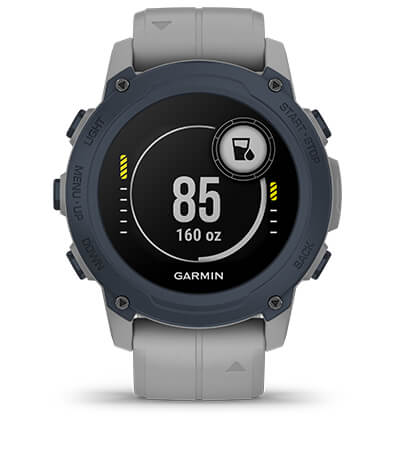 HYDRATION TRACKING
Log daily fluid intake as a reminder to stay hydrated. When auto goal is enabled, you'll even see estimated sweat loss after an activity, and your goal will adjust accordingly.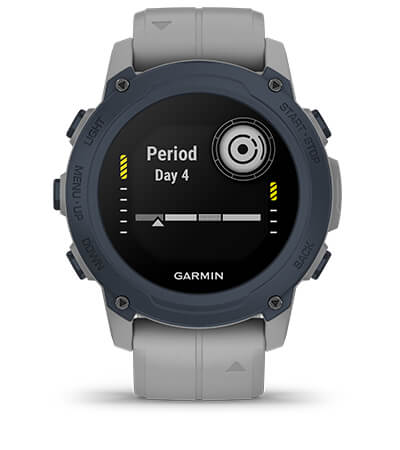 WOMEN'S HEALTH TRACKING
Use the Garmin Connect™ app to track your menstrual cycle or pregnancy. Log symptoms, get exercise and nutrition education, and more.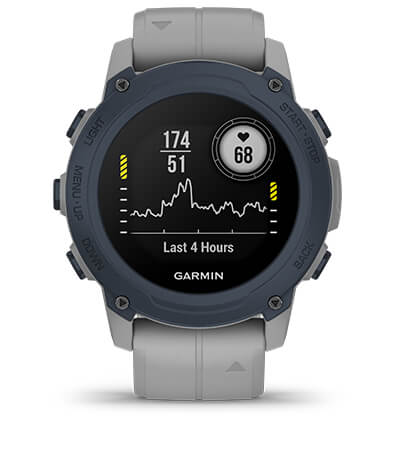 WRIST-BASED HEART RATE
The watch constantly samples your heart rate4 and will alert you if it stays too high or too low while you're at rest. It also helps gauge how hard you work during activities — even while swimming.
Designed for both your worlds.
SUPERIOR BUILD QUALITY
Enjoy a rugged, watch-style dive computer with a sapphire lens, silicone bands and an easy-to-read monochrome display.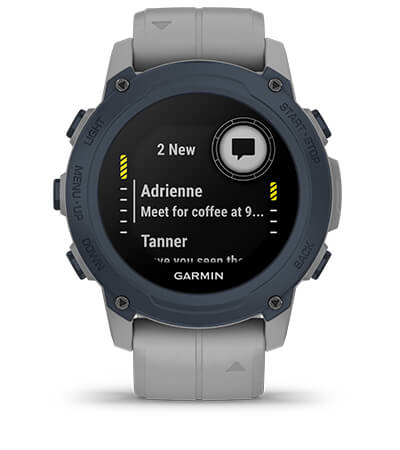 SMART NOTIFICATIONS
Receive emails, texts and alerts right on your wrist when paired with a compatible device.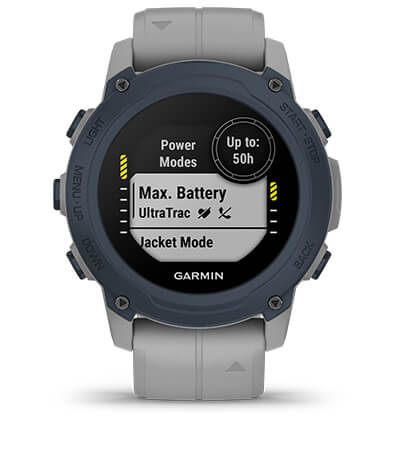 BATTERY LIFE
Stay in the water longer with up to 25 hours in dive mode, 21 days in smartwatch mode and 26 hours in GPS mode.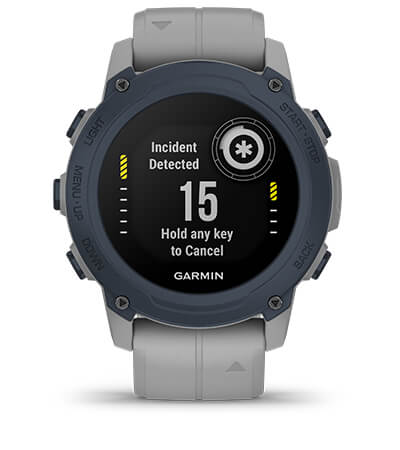 SAFETY AND TRACKING FEATURES
When your watch and phone are paired, your live location can be sent to your contacts manually or — during select outdoor activities — automatically with built-in Incident Detection5.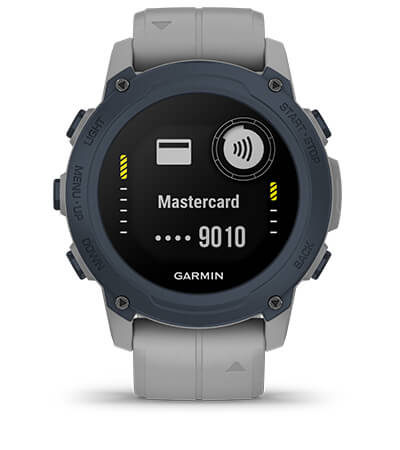 GARMIN PAY™ CONTACTLESS PAYMENTS
Breeze through checkout lines with Garmin Pay contactless payments6 through participating providers.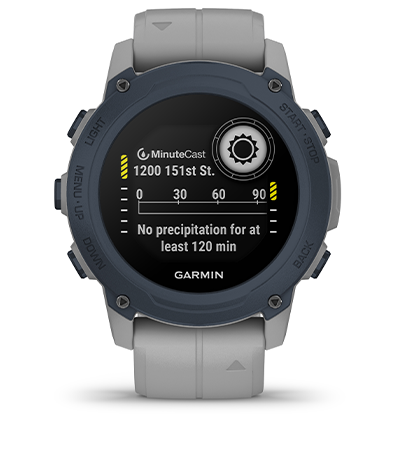 CONNECT IQ™ STORE
Download custom watch faces, add data fields, and get apps and widgets from the Connect IQ Store.
IN THE BOX 
Descent™ G1
Charging/data cable
Band removal tool
Documentation
1

 
Requires app loaded on your compatible smartphone paired to Descent G1; see Garmin.com/ble.
2

 
Satellite subscription required. Some jurisdictions regulate or prohibit the use of satellite communication devices. It is your responsibility to know and follow all applicable laws in the jurisdictions where the device is intended to be used. Satellite communication does not work underwater.
3

 
This is not a medical device and is not intended for use in the diagnosis or monitoring of any medical condition; see Garmin.com/ataccuracy. Pulse Ox not available in all countries.